Ghosts In The Machine:
Dishonesty in the medical industry
The medical system is the third-leading cause of death in the United States (Ref: Starfield B (July 2000): "Is US health really the best in the world?" - JAMA 284 (4): 483–5. doi:10.1001/jama.284.4.483. PMID 10904513) and was named in 2018 by Time Magazine as the worst in the developed world. (Ref: http://time.com/2888403/u-s-health-care-ranked-worst-in-the-developed-world/.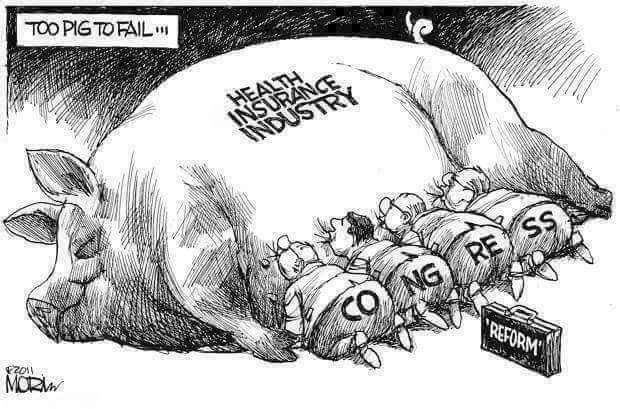 John Oliver did a very cogent piece on this:
https://www.youtube.com/watch?v=YQZ2UeOTO3I
"Professor David Eddy of Duke University who pointed out that despite the 30,000 biomedical journals in the world, only 15 percent of medical interventions are supported by solid scientific evidence. This is because only 1 percent of the articles are scientifically sound.2 Would you be satisfied with the above when we are spending approximately 14 percent of the total gross national product (GNP) for health care?" - Robert Nash, MD, 1996.
Ioannidis JPA (2005) Why Most Published Research Findings Are False. PLoS Med 2(8): e124. doi:10.1371/journal.pmed.0020124
http://journals.plos.org/plosmedicine/article?id=10.1371/journal.pmed.0020124
What is medicine's 5 sigma? - Richard Hortonemail - DOI: http://dx.doi.org/10.1016/S0140-6736(15)60696-1 http://www.thelancet.com/journals/lancet/article/PIIS0140-6736(15)60696-1/fulltext
Pharmaceutical companies write their own "clinical reports", then bribe doctors to put their names on them.
http://www.guardian.co.uk/society/2003/dec/07/health.businessofresearch
Such "ghostwriting" is not uncommon at all.
Lacasse JR, Leo J (2010) Ghostwriting at Elite Academic Medical Centers in the United States. PLoS Med 7(2): e1000230. doi:10.1371/journal.pmed.1000230
http://www.plosmedicine.org/article/info:doi/10.1371/journal.pmed.1000230
US Health Care System rated worst in the developed world - Time Magazine, June 17, 2014
Lobbyists from Big pharma are changing the face of our legal system.
http://visionscarto.net/who-the-u-s-industrial-lobbies
"All but 2 OECD nations deliver national health care systems for all and spend less (generally much less) than the US government ALREADY SPENDS per capita. Those two nations that beat us in per capita health care spending by the government don't do it by much." - Brian Hanley
Sander claims Demcrats too gutless to reign in big pharma.